Please check our Facebook Events listing for most complete and up-to-date information on our forthcoming events.
Coming up…
May
30th – Session A92
June
6th – Rachel Newton
Singer and harpist Rachel Newton specialises in interpreting traditional folk songs in both English and Gaelic as well as writing and arranging her own music.
She was awarded a Critics Award for Theatre in Scotland (CATS) for Best Music and Sound in 2009 for her work with the Rowantree Theatre Company. A skilled collaborator, Rachel is a founder member of The Shee, BBC Radio 2 Folk Award 2017 Best Group The Furrow Collective and also plays with the Scottish/Norwegian group Boreas.
In 2016 Rachel received a Hands Up for Trad Ignition Award for Innovation, was awarded Instrumentalist of the Year 2016 at the Scots Trad Music Awards and is Musician of the Year in the BBC Radio 2 Folk Awards 2017. Her album Here's My Heart Come Take It was shortlisted as one of Scotland's top 10 outstanding albums in the Scottish Album of the Year (SAY) Award 2017.
'This is the sound of modern Scotland, as surely as draws on folklore and tradition, Newton's singing and harp at the heart of a singular vision.' **** The Herald
If you haven't heard Rachel before, check her out!
http://www.rachelnewtonmusic.com/videos.html.
13th – Terry Lee Hale
Here, there and everywhere: singer-songwriter Terry Lee Hale has seen them all. An Army brat, he was born in Texas and inspired to pick up the guitar by hearing an old Billy Haley 78 and also seeing The Beatles on a Sunday evening Ed Sullivan Show.
For several years Terry Lee was a solo fixture on the Seattle scene, playing the clubs and bars around town with his strange open guitar tunings and his dark, dangerous songs. Seattle was changing. From being a backwater, it was suddenly America's most liveable city, and the underground music scene that had raged around town was beginning to break out nationally.
In 1993 he toured the continent the first time opening shows for the Walkabouts. He made friends easily in Brittany and within a few years was spending more time there than in the U.S. It was literally life changing. Years of creativity followed. A series of records were released Europe wide (Glitterhouse, Blue Rose, Borderdreams, and in 2011 one self-release) and along with constant touring, both as a solo act and with various bands, TLH was finally able to support himself as a full time musician.
In 2015 TLH traveled to Forli, Italy to record a new disc in a 200 year-old farmhouse converted into studio. Working with Antonio Gramentieri as producer, Hale's new recording is his best effort to date. The songs of "Bound, Chained, Fettered" are life lessons. Truthful stories sung with a voice that reflects and carries the emotional weight of time, obstacles overcome and wisdom earned.
Release date scheduled by Glitterhouse Records is 08.04.16
Currently Terry Lee has moved again, this time to the southern port city of Marseille, France.
Check him out at https://www.terryleehale.com/terry-lee-hale.
20th – The Mile Roses
The Mile Roses are Kate Bramley, Simon Haworth & Kari Macleod are three singer songwriters with eclectic and diverse roots.
Born out of a musical interest in both British folk and the transatlantic connections to new country and Americana, the trio are fast gaining a reputation across the UK folk scene.
Original songs and close three part harmonies, accompanied by guitars, fret-less bass, cittern, mandolin and duelling fiddles, expect haunting ballads, swinging country, celtic roots and driving folk choruses.
"The Mile Roses have built up a head of steam and are in demand…I have the greatest admiration for this line-up, unassuming and dedicated to what they are doing…the future looks bright." FOLK NORTH WEST.
Check them out at http://www.themileroses.com/video.html.
27th – Session A92
---
You just missed…
May
23rd – Frank McLaughlin & Stewart Hardy
16th – Fred Morrison
9th – Ye Vagabonds
April
4th – Seán Gray & Andrew Finn Magill
11th – Session A92
18th – Mairearad Green & Anna Massie
https://www.mairearadandanna.com/video/.
25th – Eilidh Shaw & Ross Martin
https://eilidhshawrossmartin.com
Eddie Walker – 28th Mar 2019
Thunder and Rain – 21st Mar 2019
https://thunderandrainmusic.com/home
Fake Thackeray – 14th Mar 2019
John Watterson, an adopted Yorkshireman, was born and grew up on the Isle of Man, which is where he first saw and met Jake Thackray in 1975. He recalls a performance at the local folk club, which had the audience in stitches and also a chat with a very modest and self-deprecating Jake at the interval – 'a big man and a huge talent, clearly embarrassed by the standing ovation, Jake preferred to have a pint at the bar with the punters and didn't really see what the fuss was about'.
On learning of Jake's passing in 2002, John decided that the songs were too good not to be kept alive, so he set about learning more of them. 'Before I had decided what to do when I grew up, it was time for my mid-life crisis. I told my wife, Carol that I wanted to give up the day job and sing Jake's songs and she said – OK then – so I did!'
Jim & Susie Malcolm – 7th Mar 2019
It's great to welcome back Jim Malcolm, along with his wife Susie.
At last – the duet album from Jim and Susie Malcolm. Spring Will Follow On is a selection of traditional and more contemporary songs we love, set alongside two new compositions from Jim based on popular fiddle tunes. A cheerful collection!
If you haven't heard Jim before, check him out at http://www.jimmalcolm.com/video/.
Megan Henwood & Findlay Napier – 14th Mar 2019
Findlay is a weel kent face at the Kirkcaldy Acoustic Music Club and Megan Henwood has also appeared previously with Findlay with his Bar Room Mountaineers.
Megan Henwood is an artist who calls on the elements in her songwriting. The distinguished English singer-songwriter is far too self-deprecating to describe herself as a force of nature but her third album 'River' reaffirms her unique ability to create roots music of beguiling purity from what's around her.
Findlay Napier is one of the finest songwriters and storytellers of the contemporary Scottish folk scene and has an insurgent talent that comes on like a Caledonian Loudon Wainwright. His most recent album 'Glasgow' captures the timeless essence of one of the world's great cities, distilled to artful acoustic guitar and Napier's remarkable voice.
Mike Vass – 21st Feb 2019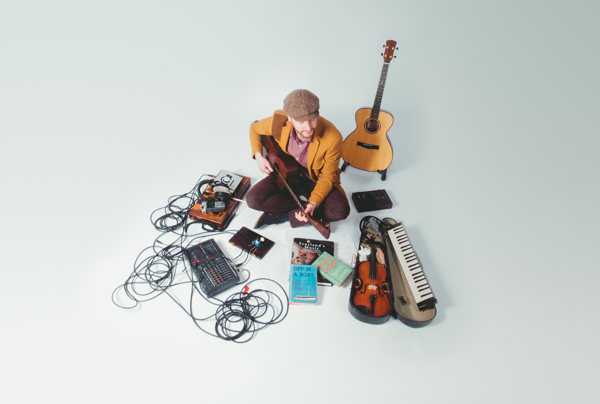 Mike Vass is one of the most creative forces on the Scottish music scene. As a musician, composer, producer and arranger Vass has amassed a body of work that encompasses early appearances as a livewire young fiddler, collaborations with many of the leading voices among today's Scots and Gaelic tradition bearers, delivering multi-media performances, overseeing critically acclaimed recordings, and scoring for prestigious ensembles.
Jake Thackray was a singer-songwriter in the French tradition, a "chansonnier" whose songs are nevertheless convincingly and idiosyncratically English. He spent four years in France as a teacher where the likes of Jaques Brel and his particular hero Georges Brassens made their indelible mark. The influence of their songs and story telling propelled Jake towards his own writing and singing style. But despite this Gallic background his songs are no mere copies; they are firmly and recognisably rooted in the English countryside, character and language. They are also painfully funny, sad, tragic, rude, irreverent, incisive and happy, and often enough all these things at the same time. In short, they are unique.
Back home in Leeds and performing in folk clubs led on to a career spanning nearly thirty years  during which he made over 1,000 radio and TV appearances.
Session A92 – 14th  Feb 2019
Your turn to share a song, a poem or a tune.
BrÒg – 24th Jan 2019
Chris Marra & Barbara Dymock – 17th  Jan 2019
Edwina Hayes – 10th January 2019
Kinrick – FriDAY 28th Dec 2018
Festive folk from Dave Spittal, John Blackwood, Brian McArthur & Alex MacKenzie.
The Hoose Baund – 20th Dec 2018
The Hoose Baund features Bob Aimer (Scalded Cats), Lawrie MacMillan (Ray Wilson Band), Sandie Forbes (Callanish) & Fiona Forbes ( Sangsters) with guest appearances from Davie Craig, Ronnie Reid and surprise guests.
Jenny Sturgeon Band – 13th Dec 2018
The band Includes Jonny Hardie (Old Blind Dogs) and Charlie McKerron (Capercaillie). Jenny Sturgeon has been nominated in Composer of the Year in the MG ALBA Scots Trad Music Awards 2018.
Boo Hewerdine – 6th Dec 2018
One of the best songwriters and performers. World renowned. Writes and plays for Eddi Reader. And a superb guitarist.

Stephen & Pernille Quigg – 29th November 2018
Cam Penner & Jon Wood – 22nd November 2018
David Hershaw & Sandie Forbes – 15th November 2018
Session A92 – 8th November 2018
Bring an instrument, a story, a one or just join the guid craic.
Eilidh Grant Band – 25th Oct 2018
Eilidh's stunning voice beautifully renders both classic folk songs and original material. With a love for traditional and contemporary folk alike, underpinned by a passion for Burns, Eilidh has made a considerable impression on the British and European folk scenes. Her vocal style, with shades of a Caledonian Joni Mitchell, won her the Danny Kyle Award at the 2004 Celtic Connections festival. Her first solo gig was at the Star Folk Club in Glasgow and since then has gone on to perform at some of the best venues in the country and has shared the stage with some of the best and most well known musicians of today.
Listen: https://soundcloud.com/eilidhgrant/dimming-of-the-day
Scottish singer-songwriter, Martha L. Healy was raised on a diet of Americana music, before she knew what that even meant. The Eagles, The Traveling Wilburys and folk heroes, The Dubliners were all staples of the Healy family vinyl collection. The collection also included music by Patsy Cline, Carole King and anything remotely Motown. Promoting her brand new album 'Keep The Flame Alight', recorded in Nashville, but influenced by Martha's Celtic roots, Martha provides a fresh take on some classic themes: the need to leave somewhere to help find your place in the world; the ache of an unfulfilled love; the complexity of family and friendships and the need to live your own dreams. She also explores how being a woman in the 21st century is not without its fair share of pressures and demands.
David Latto is a singer songwriter from Kirkcaldy, Scotland. David's honest and engaging voice has earned comparisons to Jackson Browne and Ryan Adams. He has always found inspiration in American music and weaves threads of country, rock and pop into his own work. He has spent time in Nashville writing for other artists and he plans to return there next year to record his first solo album.
Ransvik – 4th Oct 2018
Take a Swedish singer-songwriter, a Danish guitar virtuoso and a Scots singer and multi-intrumentalist. You'll be richly entertained by the result: Swedish lyrical ballads, world-class guitar instrumentals and Scots songs, all with a Scandinavian touch.
With a soulful, impeccably tuned voice and finely crafted poetry, Boston singer-songwriter Alice Howe's sound reflects a musical sensibility rooted in '60s folk and '70s Southern California songwriters echoing childhood influences including Taj Mahal, Joni Mitchell, Muddy Waters, Jackson Browne, and Joan Baez
Explorers of Ozark Music. Fiddle & banjo duet and Brushy Creek String Band.
Betse is a veteran of the club as a one time member of The Wilders.
Their music is familiar… and totally different; a fiddle and banjo duo with a sense of adventure. Old time music and song celebrated alongside inventive new compositions: a passion for the depth of tradition and a look to new creative paths.
Amanda Anne Platt & The Honeycutters – 13th Sept 2018
Blending old-school country roots attitude with influences of rock and folk
Tia McGraff is an internationally renowned and award winning Americana/Country songstress from Canada. With Scottish / Transylvanian roots running through her songwriting and voice, Tia's talent has been described as "haunting and soul-gripping."
6 international CD releases, 4 videos on CMT Canada, various film / tv placements, and numerous nominations and awards (including 2010 Hamilton Music Awards), have earned Tia a respect in the music industry and a global fan base that continues to stretch beyond demographics.
"Tia's voice has a special beauty. She has the rare ability to touch people with her music and somehow make them better…" – Bob Harris, BBC Radio 2
Kate is a Nashville-based singer-songwriter whose memorable folk songs are infused with undercurrents of delta blues, folk, pop, and country. Her easy command of a full range of American musical styles has earned her recognition as a formidable talent. Time Out proclaimed her a "major talent" while Chicago Daily Herald described her as a "world-class singer-songwriter."
The Danberrys – 21st June
The Carpenter & May Band – 14th June
Zetor in the Kailyard – 7th June
Eli West & Olaf Mjelva
Kyle Carey
Charlie McKerron, Ross Ainslie & Mark Clement – 3rd May
Woody Pines – 26th April
Connla – 19th April
Session A92 – 12th April
The Coaltown Daisies – 5th April
Ailie Robertson (support David Latto) – 29th March
George Machray – 22nd March
Archie Fisher – 8th March
Ian Bruce
Longway
Red Tail Ring
Check them out at http://redtailring.com/video/.
The Bowhill Players – 25th Jan
Eastwood – 11th Jan
The Troublemakers – 4th Jan
Check them out on YouTube:
Kinrick – 28th Dec 2017
Kinrick are a 2/3/4 piece folk band from Fife, Scotland. Dave, Alex, Brian and John sing a mix of modern, trad and self penned songs.
Scalded Cats – 21st Dec 2017
Madcap Christmas favourites join us again for a seasonal shin-dig (audience participation expected!)
It's always a fab night with Jim Hyndman and Bob Aimer, no doubt and friends! Great bluegrass, fab music, songs and stories. A great way to escape from the business of Christmas!
Equal parts fast-paced and soulful, 5-piece modern-folk Americana act, The Way Down Wanderers, draw listeners in with energy, originality and soulful generosity. Playing, performing and writing together for just 3 short years, the Wanderers have built an enthusiastic and fast-growing following. Youthful and professionally trained, these young mencaptivate audiences with soaring instrumentals, foot stomping sing-alongs and a lively stage show and have created a buzz for themselves with their unplugged, off-stage encores and propensity for performing self-titled, "restSTOMPS" – free acoustic sets at rest & truck stops along their tour routes.
They've already won a host of awards, too many to list here!
Front-men and founders, Austin and Collin, met in their hometown of Peoria, IL when they joined the same folk band and embarked on their first tour at the ages of 14 and 18 years old. The two became fast friends and soon began writing music together, ultimately forming The Way Down Wanderers when Collin was 16 and Austin, 20 years old.
Austin Thompson – guitar, lead & harmony vocals.
Collin Krause – Collin plays mandolin, fiddle and sings lead and harmony vocals for the band.
John Merikoski- Drums, Percussion.
John Williams – Upright bass and vocals.
Travis Kowalsky – Banjo & fiddle.
Check them out at https://thewaydownwanderers.com/video.
Roberto Cassani & Owen Nicholson – 30th Nov 2017
Session A92 – 9th Nov 
The Slocan Ramblers are Canada's young bluegrass band to watch. Rooted in the tradition, fearlessly creative, and possessing a bold, dynamic sound, The Slocans (2015 Edmonton Folk Fest Emerging Artist Award recipients), have quickly become a leading light of Canada's roots music scene, built on their reputation for energetic live shows, impeccable musicianship and their uncanny ability to convert anyone within earshot into a lifelong fan.
Singer/Songwriter/Acoustic Guitar – From Austin, Texas
Marty is an award winning singer, songwriter whose first memory is singing harmony while sitting on her mother's lap in the hills of Appalachia. Born with folk and country music in her blood, she comes from a long line of singers, musicians and luthiers from the hills of Eastern Kentucky and West Virginia. A self taught guitarist, Marty started writing songs at an early age. She has shared the stage with Ricky Lee Skaggs and Merle Travis and after two successful tours in Europe, Marty is based part of the year in Bordeaux, France. This Texas troubadour pours out her soul in every song and transports her audience on an authentic southern  musical journey. She is the real deal!
Session A92 – 12th
Forgaitherin – 28th September
Session A92 (session / singaround / blether) – 14th September
With roots in Portland, Oregon and Liverpool, England The Horsenecks play a dynamic mix of American roots music that they bring to life with the high-energy performance of a group of people who love the music they play.  Top-shelf musicianship and a love of the lost art of Old Time music are swiftly making them a well-loved and highly respected staple in the traditional music scenes in the US and the UK.
The Danberrys – 22nd June
Laura Cortese and the Dance Cards have a vision for their band's sound: bold and elegant, schooled in the lyrical rituals of folk music and backed by grooves that alternately inspire Cajun two-stepping and rock-n-roll hip swagger.
"Ambition often follows talent, and Laura Cortese has an embarrassment of both. Her open-armed approach to her art reveals a determination to spread the word about folk music and dance without watering down their distinctiveness." – John Wenzel, The Denver PostVera van Heeringen (Trio) – 18th May
"Flossie has a voice as clear and tuneful as a lark,
with a pureness of quality to stop you in your tracks in the forest of a song"
Colum Sands
"Flossie's great! She came over from France and wowed everybody with her sensational voice, her gutsy guitar style, eclectic repertoire and franglais patter"
Vin Garbutt
https://www.facebook.com/TheLowestPair/
Connla – 27th April
Connla are an exciting new band with strong traditional roots as well as influences from across the globe. Their sensitive and innovative arrangements of traditional and modern folk songs and tunes have earned them praise across the folk community. Having met whilst studying Music at Ulster University, they quickly began performing together and developing friendships.
They hail from the cities of Armagh and Derry: Ciara McCafferty (vocals), Ciaran Carlin (whistles) and Paul Starrett (guitar) are familiar faces on the local music scene, and are joined by Armagh siblings Emer and Conor Mallon on harp and uilleann pipes.
Gillian Frame Band – 13th April
Folksinger, Author, Singer, Entertainer
Judy lifts the spirit and entertains with splendid traditional ballads and songs from a huge and varied Anglo-American repertoire. Her clear and engaging unaccompanied presentation combine with her joy of singing to delight all listeners.
"Subtle, evocative – a total killer of a record. Pure beauty *****"
– fRoots
Nominated for GAELIC SINGER OF THE YEAR – Scots Trad Music Awards 2016
Scotland-based singer-songwriter Lizabett Russo stands out in the most cluttered of genres, marked out by her Romanian heritage and her wealth of travelling experience. She brings a diverse and eclectic range of influences to her tracks, which move from traditional acoustic ballads to up-tempo jazz – and just about everything else in between.
"Wonderfully haunting" Late Night Junction, BBC Radio 3
A band who met several years ago in Newtongrange and made their debut appearance in 2010 at the Acoustic Music Centre, as part of the Edinburgh Festival Fringe.
That debut appearance at the Fringe  sold out. That entrance into the world's biggest arts festival came only four years after they met at Newtongrange Folk Club.
The four-piece folk band, who play traditional and contemporary material  also  completed their debut album called "Quiet Joys".
"Sing out – Loud and Proud!  You guys are great!!!! Loved your night at the Polish club – Hoi!"
– Anne Murray – The Sangsters
Session A92 – 9th February 2017
Session A92 – 26th January 2017
The Scalded Cats – 22nd December 2016
Jim Malcolm & Susie Allan – 17th November 2016
Sheesham, Lotus & Son – 3rd November 2016
Frank McLaughlin & Stewart Hardy – 29th October 2016
Quicksilver – 20th October 2016
Connla – 6th October 2016
Nae Plans – 29th September 2016
Hungrytown – 22nd September 2016
Session A92 – 1st September 2016
Paul Anderson & Shona Donaldson – 30th June 2016
Session A92 – 23rd Jun 2016
Adam McNaughtan & Scott Gardiner – 28th April 2016
FFS! – 26th May 2016
Fiona Forbes, Sandie Forbes and Sandy Stanage – need very little introduction!
Brian & Alex – 2nd June 2016
"SESSION A92" – 7TH APRIL 2016
Michael Philip Band – 31st MARCH 2016
Tannara – 18th Feb 2016
Eastwood – 28th Jan 2016
Al Hughes (CD Launch) – 21 Jan 2016
SCALDED CATS SUNDAY  – 3rd January 2016
KINRICK – Sunday 27th December 2015
THE WIYOS – 3rd December 2015
Session Singaround – 26th November 2015
TALISK – 19th November 2015
Väsen – 11th November 2015
Beverly Smith & John Grimm – 22nd Oct
Sangsters
Sandy Stanage & Maryln Middleton Pollock
Nae Plans – 17th Sept
Sheesham Lotus & Son – 10th Sept
Jaywalkers
Mike Whellans – 4th June
DICK GAUGHAN + Cody Feechan – Thursday 11th June
Forbes Stanage Forbes MacMillan + Dandylions – 5th March
Session Singaround – 19th March